Calls to establish country risk officers coming from global organizations and distinguished risk managers are easy to dismiss as politically impractical. Yet, as the U.S. budget Super Committee sputters toward its November 23rd deadline buffeted by external influences, and the European Union grapples with sovereign debt negotiations, the argument strengthens for objective, fact-based national risk management to support policymaking.
Special interests are unavoidable threads of the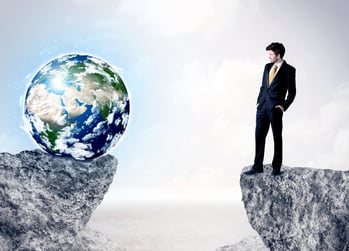 fabric of democratic systems, but their insistence on eliminating a set of policy options at the onset of negotiations negates the potential of using valid risk trade-off analysis in political discourse.
This presents an opportunity for risk management professionals to promote the benefits of integrating risk management processes and analysis with policy decision making. Introducing structured risk assessments into public debates would help prioritize legislative agendas and the use of national resources across time.
WEF and Other Global Calls for National Risk Management
The World Economic Forum first made its case for country risk officers in its Global Risks 2007 analysis and continues to bolster this call with notable support from Swiss Re, Oliver Wyman, and the OECD, among others. The idealistic view of a country risk officer is an individual, or entity, within a nation's government that holds enough authority to guide policy considerations while conducting risk assessments and identifying tradeoffs in national risks and government action.
In practical terms, democratic systems cannot grant this degree of nationwide authority to a single individual or entity. Steps to coordinate country risk management in the past decade have focused instead on departments for civil emergency preparedness. Examples include the UK's Civil Contingencies Secretariat, Public Safety Canada, Japan's Central Disaster Management Council, and the U.S. Department of Homeland Security. While this is progress, the power of risk-aware decision-making processes remains elusive for government risk strategy and policymaking in general.
U.S. politicians and government bureaucrats rely primarily on the Congressional Budget Office and the Office of Management and Budget as resources for objective policy guidance, but these organizations merely respond to inquiries framed by political motivations and limited piecemeal financial data and facts.
Risk Management Professionals Can Add Value in the Fourth Estate
To achieve a purer form of plausible risk management influence in the United States, risk management professionals must take up residency in the Fourth Estate.
The Fourth Estate refers to the press as the fourth branch of checks and balances on government systems that sheds light on the motivations and inner workings of the federal government. An independent national risk management advisory organization(s) could play a role within the Fourth Estate by injecting risk analysis into policy debates and offering practical advice on basic risk management concepts and considerations for national priorities.
Here are three anticipated arguments against this approach, along with counterpoints:
The press has proven the days of objective Woodward and Bernstein investigative reporting has devolved into its own politically divisive entities. – True, but as long as they represent the full political spectrum en masse, the press still functions to inform the public.
Political think tanks already fill the role of offering policy guidance. – Yes, but they have also diverged into separate special interest camps and typically advise individual public policies.
Any independent risk management advisory organization would also fall under the influence of political special interest motivations. – No. Not if you believe risk management is an objective disciplined approach for risk identification, assessment, and management of all risk factors in both the short and long terms.
The current political environment, combined with the weightiness of looming national and global risks, presents an opportunity for ambitious risk managers to prove the power of their business discipline. The dynamics and scale of the full range of country risks may be more complex than for any single business, but the risk management value for a country would still be the same as an enterprise risk management program: establishing a risk framework which all decision makers could use to assess, effectively communicate, and monitor risk factors when considering tradeoffs in policymaking.
Governments will never make decisions at the speed of the business environment, but our political entities need to close this process gap in order to manage, rather than react to, dynamic market conditions and risks.